Throughout lockdown, children and teenagers aged 4-17 were invited to write about the wildlife outside their windows in a search to find the UK's most talented young nature writers: the Nature on your Doorstep wild writing competition. Judged by a diverse team of wildlife writers, champions and publishers, the competition saw 220 entries from all over the UK – from the tip of Cornwall to the centre of London to the island of Fair Isle.
The winners are now revealed as Danielle Amouzou-Akue (14) from Essex, Anna Stone (10) from Norfolk and Benji Janes (6) from Sussex.

All three winners will receive a pair of Savanna binoculars from Opticron worth over £100 each, as well as benefiting from a plethora of prizes for themselves and their classmates. In total, over £1,200 worth of prizes were donated by supportive businesses, including several 'money-can't-buy' experiences, such as spending a day at the RSPB headquarters in Sandy. Most impressively, the winners will get to see their stories in print, published in a future edition of BBC Wildlife.
The runners up were Daisy Oldfield (16) from London, Elsa Lazaro-Fitzgerald (11) from Kent, and Scarlett Serventi (6) from Cheshire.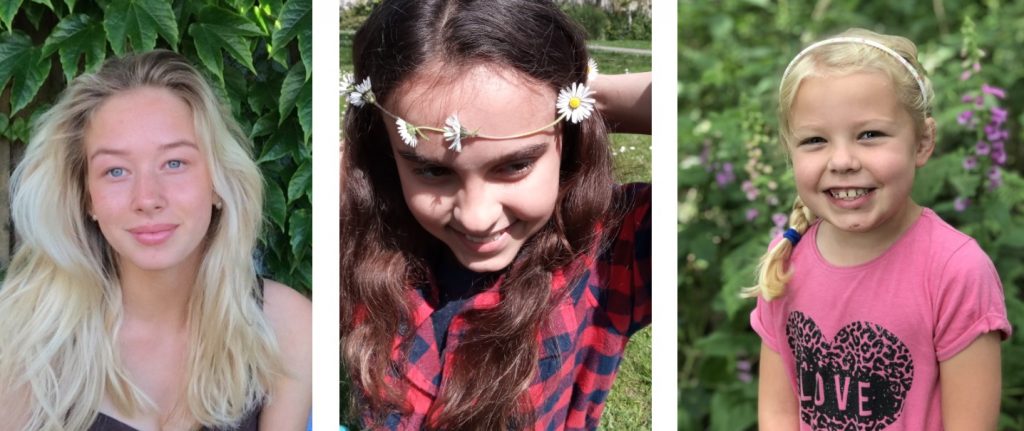 All will receive prizes and all entrants will receive a certificate of participation, designed by Tiffany Francis-Baker.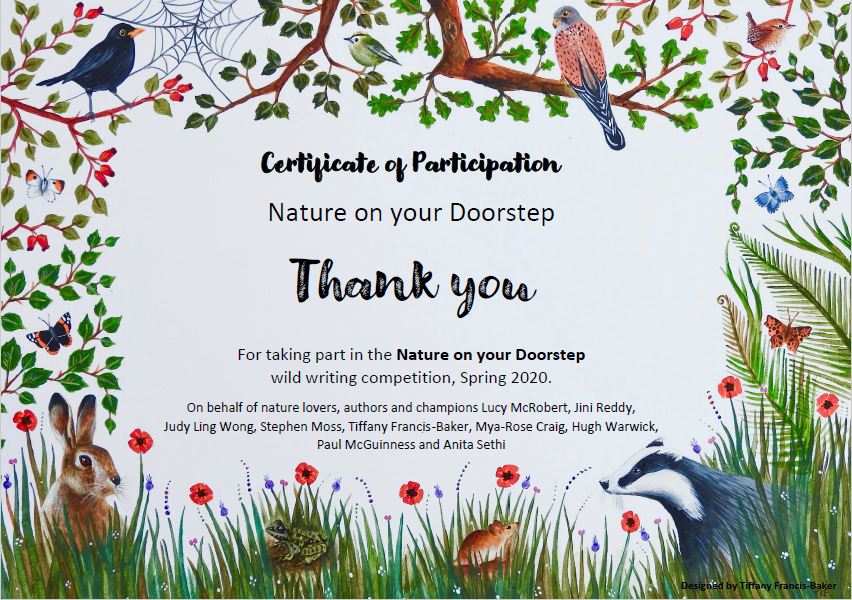 Danielle's story follows a nightingale as she flies across Europe on her migration north to return to Essex, wondering what has scared all the humans into their nests. Whilst humans hide from an unseen virus the birdsong can be heard more clearly and nature thrives. Anna celebrates the apple tree in her garden; faced with having to move house due to her father's job, she mourns the loss of her tree, only to find that it gives her a packet of its own apple seeds – a poignant story of rebirth, magic and connection with nature. Benji, who has adopted the pen name Benjamin Fallow (after the deer species), is inspired by a bird that we all take for granted in our gardens, a pair of house sparrows, which he nicknamed Flutter and Flims.
Nature author and wildlife storyteller Lucy McRobert organised the competition: "I, and all the judges, have been so moved by the stories we have received. We have laughed and cried and mourned and smiled and learned lots, too. It was a hard competition to judge, but the diversity of stories – from different backgrounds, ages, cultures right across the UK – has meant for a magical experience. Children have shown us the different ways that they experience nature, and it feels purer and more authentic than we do as adults. We've had stories about flowers, trees, birds, insects, mythical creatures, foxes, hedgehogs – and about people. Many are budding campaigners, desperate to save the natural world. Others used nature to tell their own stories, for example human immigration. They connected with nature using all their senses and emotions. It's magical. And it's our responsibility as adults to keep that passion alive."
"Two things struck me. First, we've seen many children who struggle with writing who have been motivated to write a story for the first time. They might have dyslexia or English as second language and yet they produced beautiful prose and imaginative ideas. Second was the way that nature can heal us, help us, inspire us and provide solace. We had entries from children who had suffered from bullying; who were recovering from serious illnesses and in strict self-isolation; who were separated from parents because of Coronavirus; who had suffered recent tragedy or even bereavement. Two little girls from opposite ends of the country had recently lost their homes in fires, one from Fair Isle and one from London. Their experiences of wildlife were so different – from hen harriers to secret urban gardens – but here they were, connected by a love of nature."
Quotes from the winners
Danielle Amouzou-Akue, 14, said: "When I saw the competition, I wondered what nature I had on my doorstep. I decided to investigate the birds in my flowering pear tree, using the sounds they made as well as what they looked like and the colour of their feathers. I stumbled upon a track of different birdsongs on YouTube and realised I had heard similar sounds before in my garden. I used the nightingale as my inspiration. He became my main character and I began to think what it must be like for him and other birds coming back on their migration to a completely changed world under lockdown. Nature is a huge inspiration for me, and I love to explore. Another wonderful thing about nature is that it can be recorded in so many different mediums and I'm so pleased to have captured and conveyed a little of its beauty in my piece. I am so thrilled and grateful to have won."
Anna Stone, 11, said: " To me, nature is a miracle, a display of life. It is amazing to me that a tiny little seed can grow into a magnificent oak or an egg can hatch into a stunning bird. Nature makes you think. I am really excited to have won this competition as I love writing"
Benjamin Fallow, 6, said: "I love everything about nature, and I love drawing too. We heard about this competition on Chris Packham's Self-Isolating-Bird-Club (I watched them all and love Springwatch so much too!). My story is about two sparrows that I've made friends with in our garden, they're called Flutter and Flims and I see them every day! I'd like to say to other children that nature is the most interesting and fun thing to learn about, and we have to look after nature and not harm it, because we need it to live too and it's amazing."
Daisy Oldfield, 16, said: "I entered the competition as I have always loved to write and I saw it as a great opportunity to have a purpose to my writing. I was inspired to write about how we are often too caught up in our own busy lives to recognise just how important nature is to us and that we should take these new circumstances as a way to be more aware of the natural world around us. Growing up I have always been enamoured with the ocean and the masses of life that it sustains so writing about nature and our impact on it has always been something I have been passionate about, and reminding people (even if it is only myself) that materialism can often distract us from what is truly important. I was truly shocked and amazed that I had come runner up and extremely glad that the judges liked my story and that it may be shared, so if I could share a message with other young people it would be to take care of the Earth that feeds us, and to be more mindful of our actions as we all make a difference."
Elsa Lazaro-Fitzgerald, 11, said: "I entered 'Nature On My Doorstep' because I wanted to write about my experience and personal connection with the natural world. I was inspired to write about Bluebell Wood near my house because it's a magical place. I feel very lucky to live near woodland and I wanted to write about delicate bluebells because of all the connections you can make with them. I did some research and I was fascinated by the myths behind these flowers, old fairytales and magical beliefs. I also learned about some of the laws protecting them. I feel proud to be a runner up because I have achieved something and people will have the chance to read about how nature can take you on an adventure. When I think of lockdown, I won't think of it as a time just of isolation when everyone's world shrank. Bluebell Wood made my world in lockdown calmer and much bigger because the natural world is always changing. My message to others is to always take time within your busy lives to connect with nature and explore the natural world in front of you."
Scarlett Serventi, 6, said: "I entered the competition because I wanted to share my love of nature and my story with other people. I wrote about the birds that live in our garden because they always build their nests in strange places. I always wonder what makes them choose their perfect nesting spot. I was so excited that I was a runner up in the competition; I screamed and screamed! Everybody should get outside and enjoy nature!"
What did our judges think?
Anita Sethi said: "I loved reading the entries which showed great talent and imagination. This strange time of lockdown has shown huge inequalities in access to nature and I have been thinking much about how children from differing backgrounds will be faring when nearby nature is so important. I grew up in inner-city Manchester and as for 'nature on the doorstep' there were no nearby woods or rivers or lakes. Instead I learnt to notice nature in unexpected places such as the dandelions growing between the pavement cracks. I would advise any would-be nature to notice the tiny details which can fill the heart with hope when most needed."
Paul McGuinness said: "Stories are at the core of everything we do on BBC Wildlife Magazine, so we were thrilled to be able to support this competition and offer the next generation of wildlife writers the chance to see their work appear in the country's longest-running natural history magazine. The standard of entries was exceptional, and a real testament to what's important in telling stories. It's not about grammar, spelling or demonstrating a wide vocabulary (although I was amazed at the level of all three), it's about truly engaging with your subject. And that's what makes Nature on Your Doorstep so vital right now."
Judy Ling Wong said: "A storytelling competition is a wonderful kick off for children to get to grips with the public world of nature writing. If we want more of it, we must work together to enable access to nature by 100% of children. The impulse to express our love for nature, including storytelling and the care and protection of nature, comes out of the baseline of having nature as part of our lives."
Jini Reddy said: "I'm thrilled that Danielle Amouzou-Akue won her category – I loved her story. She writes with insight and compassion and hers is a timely tale too, one we can all relate to, whatever our relationship with the natural world may be."
Hugh Warwick said: "Nature has such enormous competition in the form of the instant gratification generated by our online world – what these young writers, thinkers and naturalists have done is show how wonderful the returns can be when we take the time to look deeply. Thanks to lockdown they have been free to see what is close and what matters. They are the ambassadors of their generation – and I hope that they will see this competition as just a first step. We so need them – these young voices – to help translate the natural world into something accessible for all.
Stephen Moss said: "'What I loved about all the submissions – and especially the winners – is that they wrote about what they could find on their doorstep, with such passion and enthusiasm! And they are so diverse in their backgrounds and experiences. This bodes well for the next generation of naturalists and nature writers – and readers!"